Say goodbye to excessive car running costs and long hours. Say hello to Gimme!
Gimme is a new shop and delivery app that's here to change the way you earn! Gimme allows customers to shop without restriction and get anything they need delivered on-demand. With our easy to use Gimme Buddy App, drivers can accept Shop & Delivery jobs to purchase whatever customers need from any store and deliver it right to them in as little as 1 hour! Gimme Buddies are paid for both shopping and drive time, plus, they can stack multiple jobs to get more done and improve their earnings!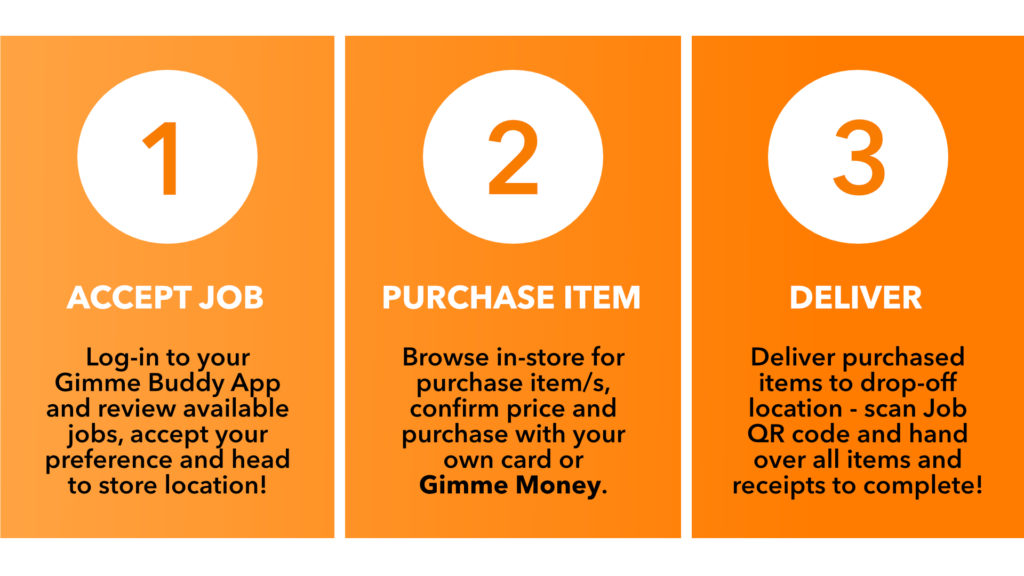 To work Personal Shopper jobs we've streamlined the process to make things as convenient as possible. Simply follow the steps below and if you need further assistance, you can view our "How To" video Here or contact our helpful team at support@gimmebuddy.com
SHOP & DELIVERY JOBS 
Sign into your 'Gimme Buddy' app & swipe your status to "Online".
Review 'Available Job' details (store and drop off location, purchase item/s & quantity)

Jobs with a delivery within 5km of start location must be completed within 1 hour.

Accept job then head to store location and find all items on shopping list.
Once you have found the correct purchase item/s, head to the payment counter in-store & purchase items with your preferred payment card and ensure you receive a receipt of purchase.
When all order items are purchased, deliver items to the drop-off location.
If the customer is present scan the unique job QR code via their Gimme app and hand over items along all original receipts.
If customer is not present, please ensure you leave items in a secure location or hand over to the appropriate recipient. Input the unique 4 digit job code to complete the job.
Within minutes of completing a Shop & Delivery job you will be reimbursed for the item(s) cost into your nominated bank account.
NOTE: When working as a Personal Shopper you are paid for both the delivery and in-store shopping.